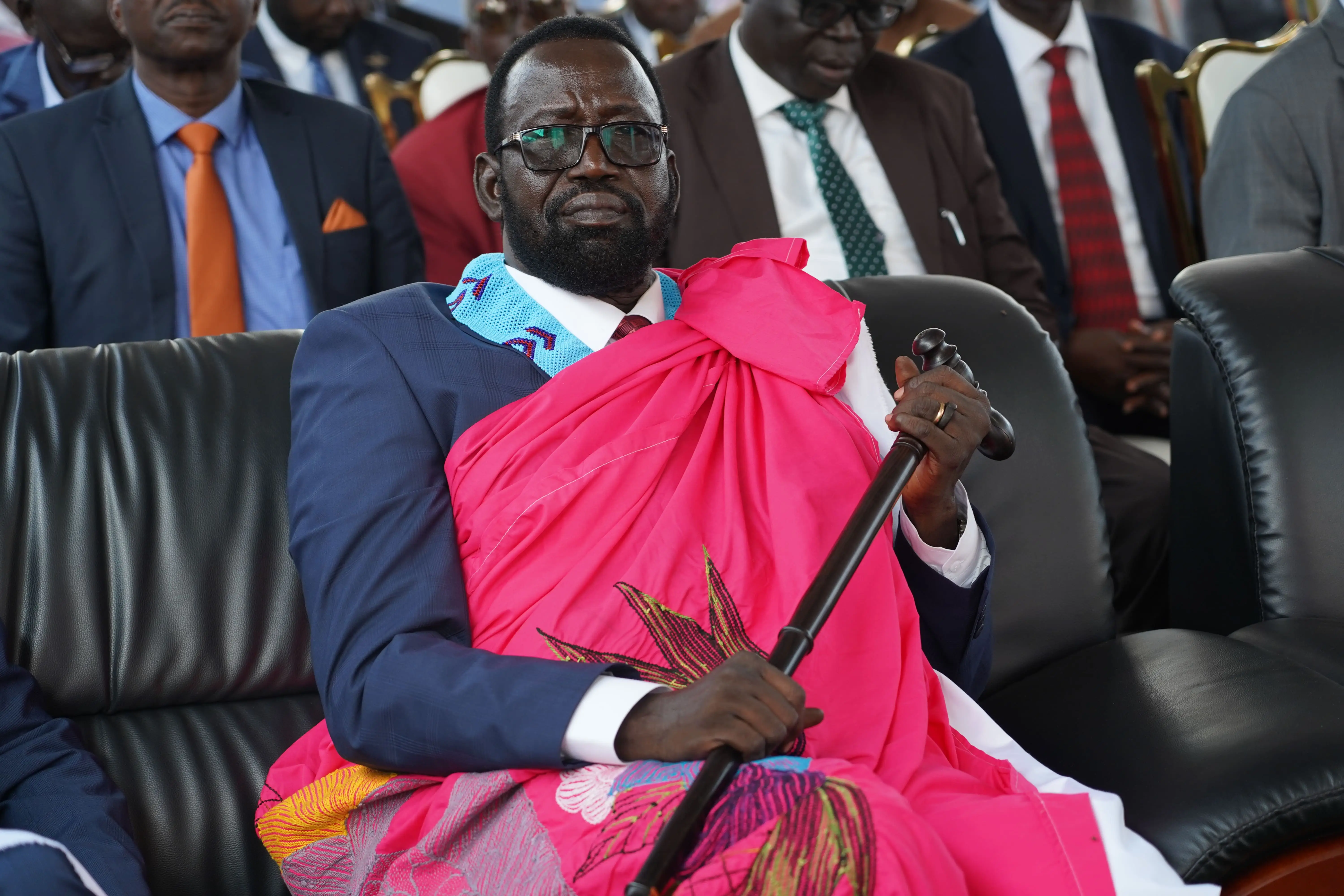 HON. MAYEN WOL JONG
Undersecretary
HON. MAYEN WOL JONG BIOGRAPHY
Mayen Wol Jong hails from Kuajok, Gogrial of Warrap State, South Sudan. He was born on 1st January 1960 to the family of Late Wol Jong Mayen and Carolina Ayak Wol Boula who is a Luo native. The 1st of January 1960 is based on assessment of age but the actual date of birth may be different from that as it is the case in most of Southern Sudanese. The name Jong is also an abbreviation of Jongkoor meaning the horse in Dinka Language which came to the family from slave trade practice in Kuac Community at the time. Mayen Wol Jong is married to his beloved spouse named Mrs. Tereza Natale Majok Dut. Mayen is being succeeded by his beloved children namely: Jongkoor, Aluel, Aluet, Adut, Mayen, Wol, Machok, Ajiek and Deng as well as the grandchildren. Mayen is a staunch Christian who loves God and Everyone around him. Besides he is an open minded, eloquent and well-spoken who is commonly referred to as the "Jack of all trades". Being trusted by everyone who serves with him, Mayen contribution to his family well-being and the entire Nation of South Sudan cannot be underrated. Prior to being the Undersecretary in the Ministry of Petroleum from 2018-2020, he was appointed executive Director in the Office of 1st Vice President of the Republic of Sudan before South Sudan gained her Independence from Sudan and later on appointed as Chief Administrator in office of the President for Independence South Sudan in 2011. Mayen Wol sometimes referred to as "Molana" is widely admired by many people for being a hardworking and a man of high integrity. While working in the Ministry of Petroleum he initiated many developmental projects and supervised their successful Pursuits in the Ministry of Petroleum.
EDUCATION BACKGROUND
Mayen Wol Jong, early education was deflowered by successive civil war disruptions right from his Childhood. But due to his tenacity and perseverance, all became possible. Mayen began then his early Sudan Primary School Education in Gogrial Rural Primary School, Sudan from 1969 to 1974 at the age of 9 years. He passed with distinction, (in fact he was number one in the exams leading to Junior secondary school that year), and joined Kuajok Junior Secondary School, where he acquired his Secondary Education between 1975-1978. After which he enrolled for Sudan School Certificate from Bussere Secondary School from 1979 to 1982. Mayen then enrolled for his Bachelor of Laws (LLB) from the University of Khartoum-Sudan from 1983-1987. Due to civil war and the need to support his family Mayen, then acquired admission from Mindolo-Zambia, in 1989 where he completed his Diploma in Youth Social work to enable him cope with the work of Sudan Council of Churches National Youth programme. Given the nature of his carrier he couldn't continue with his studies then. Fifteen years later, he was able to continue with Master Degree (LLM), at Staffordshire University, United Kingdom where he did human rights and constitution law.
CAREER BACKGROUND
He has been Inquisitive since his childhood, Mayen has hard aeronautic rise in his early career. He began his teaching profession in Kuajok Secondary School for a period of 2 years, which shaped his focus towards developing his career and was able to later advance in his career as an advocate and commissioner of oaths before all Sudanese courts in 1987. After that he became a National Youth Program Coordinator with Sudan Council of Churches between 1988 and 1998 and then joined Norwegian Church Aid where he worked as a Relief and Development Coordinator during the famous Bahr El Ghazal famine of 1998 in which he contributed immensely in serving the IDPs in Wau. People know him to be a strong supporter of IDPs and the builder of Marial Ajiith and Barayer IDP famous camps in Wau. Mayen showed greater interest in humanitarian work. In 2003 to 2006 he headed a huge relief operation of Action by Churches together(ACT) and Caritas international led by Norwegian Church Aid (NCA) in Darfur Sudan. Having served in 2 (two) Presidencies of Sudan and South Sudan as an accounting officer equipped him with multitudes of experience to deal with any given situation. He was the Chairman of Technical Loan Committee of the Republic of South Sudan who negotiated the loan from CNPC and Petronas companies. When he became the Undersecretary in the Ministry of Petroleum, he said he never wanted to disappoint H.E. the President in oil sector. For this reason, Mayen undertook a course in Geology with Mohamed Lino Benjamin whom he replaced as the Undersecretary and because of his sharp brain and quick understanding he emerged to be one of the best Undersecretaries after achieving many projects. He understood what the entire oil sector is about as well as that of Finance after heading many Loan Committees.
TRAININGS UNDERTAKEN
He has undergone series of trainings that has given him the necessary knowledge and skills to serve in different fields since his youthful stage. In 1994, Mayen attended three weeks course in report writing and project evaluation in the University of Khartoum-Sudan after which he attended six weeks course in project financial management with the International Committee of Red Cross (ICRC) in Khartoum, Sudan which broaden his knowledge and skills in financial literacy. He then furthered his training in management and administration in CORAT Africa (Kenya-Nairobi) in 2001 and this gave him rare skills in administration and management which have been further sharpened by his experience of working in the office of the President of the Republic of South Sudan and in the Presidency of Sudan. Eight years later in 2009, Mayen attended a three weeks course in the management of Presidency departments which was held in Khartoum Sudan and then in 2013 he underwent rigorous training in Executive Leadership programs at Kenya School of Government (KSG) which increased his ability in effective leadership skills. Many people referred to him as a man gifted with decision making.
PREVIOUS COMMITTEES HELD
He has been active participant and member in different committees. In 2009, he became a Member of Sudan Constitutional Review Committee and served as a Chairman of Loans Committee of Government of South Sudan representing the Office of the President of the Republic of South Sudan between 2012-2015 as well as Member of China Desk in the Office of the President of the Republic of South Sudan. Mayen later on served as Chairman of Oil Production Resumption Committee of the Ministry of Petroleum from 2018 to 2020 as well as a Chairman of Crude Oil Marketing Committee, during the same period.
LEISURE AND LIFE STYLE

Being born to the God-fearing family and grew up in the Catholic Church, Mayen believe in humanity before God. He makes physical body exercise which he feels refreshes his body and keep muscles more active. He like watching both local and international news channels, reading newspapers, magazines, acts and articles related to loans, terms sheets, financial reconciliation documents and Institutional acts and Country's Constitution and laws among others.
LANGUAGE SPOKEN
Eloquent as he is, Mayen's linguistic ability is very excellent in two (2) international languages which is English and Arabic. He read and write both of them perfectly. Besides he also speaks local languages such as Dinka, his mother tongue Luo which is widely spoken in most parts of South Sudan and East African Countries.